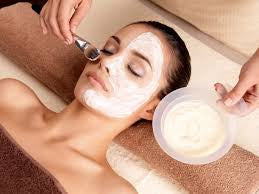 Deep Freeze Facial
Price: £119.00 per session
Only available at our Stratford Clinic
The Deep freeze facial is the ultimate non-surgical anti-aging treatment in facial skin care. It combines skin needling collagen induction therapy, Collagen, Radio Frequency(RF) therapy, heat therapy and cryotherapy and takes all to a brand new level of anti-aging. This is a treatment that makes your skin brighter and smoother in the months after.  
Skin Needling
Skin needling has been proven to be the most effective non-surgical anti-aging treatment.
As you get older, the levels of collagen and elastin in your skin naturally decrease and skin loses firmness and elasticity. Skin needling collagen induction therapy stimulates the skin's own production of collagen by creating micro traumas in the derma layer of the skin. Scientific study has shown a single treatment of skin needling collagen induction therapy is able to increase the levels of collagen by up to 1,000%. Skin needling treatment also increases the absorption of topical product by 10,000%.
By restoring collagen and elastin which are vital skin proteins, skin becomes both smoother, firmer and brighter.
Radio Frequency (RF) Therapy with Collagen, Heat Therapy
When topically applied, Collagen can not be absorbed by the skin, as the molecule of collagen is larger than that of skin. Heat Therapy heats up the skin to 42 degree Celsius, opening the pores of the skin and letting collagen slip through the protecting barrier of the skin.
Radio Frequency (RF) therapy uses radio frequency waves to heat the dermis resulting in contraction of the collagen of the skin. It tightens the skin with the gradual decrease in wrinkles. Combined with Collagen and Heat Therapy, Radio Frequency therapy forces collagen into the depth of the skin, contracts the collagen protein, increases blood circulation and tightens the skin.
Cryotherapy
Cryotherapy cools the skin down to -5 degree Celsius. It seals the collagen within the skin, closes the pores and leaves the skin firmer and smoother.