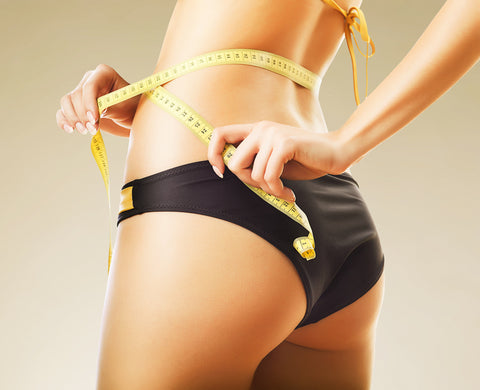 Laser Lipolysis
Laser Lipolysis:
Prices:
Any Single Area: £179 (6 sessions)
(Choose from Stomach, Thighs, Arms, Lower back, Upper back, Love handles, Calves & Chin)
Laser Lipolysis
Laser Lipolysis points a winning way to non-surgical fat loss. It achieves inch loss and body contouring with no pain, no needles and no down time.  
How does it work?
The machine emits low levels of laser energy which penetrates deeply into the fat layer underneath the skin and renders the fat cell walls porous. Fatty acids that originally stored in the fat cell subsequently get flushed out from the porous cell and enter the natural metabolic cycle of the body.
This does not affect the neighbouring structures such as skin, blood vessels, and peripheral nerves. Triglycerides are broken down into smaller molecules of fatty acids and glycerol and spill out from the broken cell membranes. They are released into the interstitial space, where they are slowly transported through the body's natural metabolic functions, with no adverse physiological effects and are used by the body as an energy source.
What should I do after the treatment?
After Laser Lipolysis treatment, cardio workout is essential as it uses up the fatty acid released by the treatment, leaving the treated fat cell empty and achieving the fat loss result. We recommend a good heart pumping cardio workout. It can be running, swimming, biking, skipping, aerobic class, zumba class, spinning class, etc.
How can Laser Lipolysis help me if I exercise regularly anyway?
With normal exercise on its own, it takes between 20 to 25 minutes before you begin to burn any localised fat such as beer belly, love handles, bingo wings or muffin tops. 
With the help of Laser Lipolysis, you would start to burn the stubborn fat from the very beginning of your cardio workout. Laser Lipolysis greatly enhances the fat burning effect of a cardio workout..
What are the suitable areas that can be treated?
Chin, Cheek, Neck, Arms, Stomach, Lower Back, Upper Back, Buttocks, Hips, Thighs, Knees, Calves
What are the results?
Clinical study have shown that combined with vigorous post treatment cardio exercise and healthy diet, a client can lose between 1 and 2 dress sizes on the treated area. Immediate before and after treatment measurement shows up to 30% reduction in the fat layer depth after just one treatment.
Each treatment lasts for 15 minutes for one area and a course of eight treatments is recommended.
How many sessions would I need?
A course of between 6 session to 12 sessions depending on each individual's condition.
What are the contraindications?
Unfortunately people with the following conditions will not be able to have the treatment: Heart problem / Diabetes(Type 1) / Kidney problems / Cancer / Metal pins or plates on the treated area
Please speak to our friendly therapists and find out more about Laser Lipolysis treatment.